Logos are everywhere they surround us you don't have to look far to see a logo they're on the clothes we wear, the packaging of the food we eat, the moment we wake to the moment we sleep they are an ever present part of our daily routine. Join us in this article as we answer the question of What is a Logo Design?
For instance I wake up in the morning and swipe off the alarm on my phone right there in front of me is the Google wordmark and the Chrome symbol basically the first things I see after waking even if I'm not paying much attention it's there right in front of me.
I head into the bathroom and it's literally full of logos, there on the cosmetic products we use such as shower gel, soap, shampoo, aftershave, facial cream, deodorant, logos are even on my razor and toothbrush.
I get dressed and logos are present on the clothes I wear, then I head downstairs to have breakfast and logos are on the food packaging such as the cereal box or on the loaf of bread. There's a logo on the toaster the fridge the microwave, and that's before I have even made it into the dining room or the living room.
You get the idea but try it yourself maybe not as soon as you wake up but what about right now while you're reading this article take a look around how many logos can you see?
What is a logo and why is it important?
The Definition of a Logo: Logos or (logotype / logotypes as they are known when type is the primary element) are either a graphical symbol or an icon sometimes combined with a typeface are used by a business such as a public enterprise, organisation or individuals to aid consumer recognition, and aids in building and establishing trust and loyalty of a business or brand.
Logos represent a company brand, and their sole purpose is to identify and communicate visually by having logos on products enable instant customer recognition of the company/brand.
A logo, brand Mark or brand icon is a deceptively simple device. It employs a combination of shapes colours symbols and sometimes letters or words and a simple design that symbolises the values quality and promise offered by the manufacturers of a product or service.
The Greek word logos appears in the first line of the John's Gospel in the Bible and translates as 'word'. The use of logos has a long and distinguished history, having been applied to coats of arms, coins, flags, watermarks, and the hallmarks found on precious metal.
Traditionally, a logo was used to record the origin of a person or object in order to highlight its value through its connection with a prestigious family, place or marker.
A logo is one of the most valuable assets a company has and it's the face of the brand, and one of the first visual assets a potential customer sees when engaging with a brand for the first time.
The logo must create a positive emotion in the eyes of consumers by communicating this within seconds of seeing it.
The majority of businesses and brands are recognised and identified by their logo design quicker than they are by the actual naming. People engage and respond more quickly to images than words as they consume what they see within a few seconds and make judgement almost instantly.
Let's take a look at the origins and history of the logo and just where they came from.
Where do Logos Come From?
The History of the Logo / Logo origins are dated back as far as ancient Egyptian times, and the Egyptians used hieroglyphics to brand and identify their possessions this was until the medieval era when graphical imagery such as a coat of arms was used to distinguish between the statuses of different nobilities.
The current era of logos began in the 1870's with its earliest abstract logo mark you will have come into contact with at some stage which is the Bass red triangle.
This is the logo of the English William Bass brewery whose products have displayed a red triangle since around 1875 revolutionary for its time the logo was streets Ahead of all the competition and even now stands out from other brewers more traditional visual identities an interesting historical detail the bass triangle was the first ever trademark to be registered in the United Kingdom under the trademark and registrations act 1876 and is hence the most strongly protected.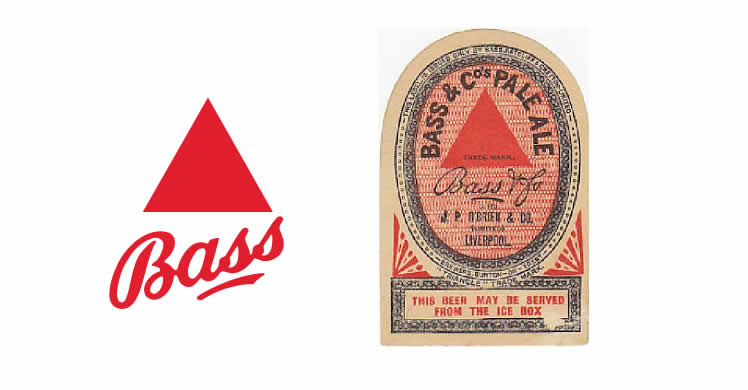 Through the introduction of the advertising and coloured printing industry logos / their trademarks become essential for brands around the world.
*Good Books to learn about logos and their history
We own all of the above books and they have been great resources over the years highly recommended. They have also been reviewed over on The Logo Creative Book Review Section
Modern Trademark Laws
Modern trade Mark laws date back to the late 19th Century. The advert of large national corporations selling their goods to a growing consumer market created an issue of identity.
How could they signify the quality of their products and distinguish them from inferior goods or commercial rivals? The answer was a unique 'trademark', as a logo is sometimes known.
This legal system enable two companies to register a name and designed identity (similar to a patent for product designs) which then enable them to take legal action against any unauthorised use of their mark.
A logo can take almost any form some use words made unique by a bespoke typeface other's use pure symbols many use a combination of the two. They can be defined according to a number of general categories including:
What is the purpose of a logo?
Logos primarily identify products businesses and institutions but they also associated hopefully in a positive way with the ethos and Philosophy of those entities. Logos are however vessels they are not inherently good or bad sacred or profane but rather symbolic depictions of what they are used to characterise.
They may be abstract or figurative but logos in body of Pacific intention. In this sense logos must have a purpose or a defined goal there must exude power the function of logos is to capture attention Fosters recognition and if successful induce royalty.
A logo cannot be without character and must be demonstrative active and vivid. A logo does not sell it identifies rota Paul Rand the designer of IBM, UPS, abc, NeXT, Westinghouse among other logos.
And modern logo is really a description of a business as it was when trademarks used pictures to literally illustrate the nature of the business logo derives meaning from the quality of the thing it symbolises not the other way around he added.
Arguing that a logo is less important than the product it signifies because what it represents is more important than what it looks like the subject matter of a logo can be almost anything.
Design is not irrelevant to Logo designed yet paradoxically a good logo is not always a well-designed one. Because the first goal of any logo is to attain memorability that is further associated with what it represents the result is not always measured by aesthetic standards. Acceptance of mediocrity is antithetical to the essence of design and are currently composed device could just as easily become memorable and impactful as an elegantly produced one. Still the idea behind a logo must be sound and appropriate.
Why is a logo design important for your business brand?
So you may be asking why a logo is important.
A good logo design grabs attention, it makes a positive strong first impression to your target audience, and it's the foundation of your brand identity, a unique logo is also memorable in the eyes of the consumers engaging and interacting with your brand.
A unique logo separates you in the market from your competitors, it will foster brand loyalty and expected by the brands audience as it's the first thing they look for and it should be front and centre.
The attention span of consumers in today's world is short and companies have only a couple of seconds to convince potential customers that their services or products or worthy of their consideration.
The logo can encourage this decision making process by quickly gaining the viewers' attention and communicating visually the brands core values, the logo works as the face of the brand by turning that short consumer attention span into a positive visual experience.
A Logo is one of the most important branding investments a business will make, and you have one chance to get it right.
As a brand you want the consumer's first impression to be positive and immediately communicate to them your ownership over the services and products you offer and gain their trust that you are the brand that deserves their attention to invest in you.
What are the different types of logos?
There are many Different Types of Logo Design each unique and beneficial for different types of business and brands.
Pictorial marks

the apple and WWF logos are examples of this approach very well-known object has been sterilised and simplified
Abstract or symbolic marks
a symbol that embodies a big idea as used by the multinational corporation BP and car company Toyota
Symbolic letter forms
also known as a letterform marks where a letter is designed into a stylized form that communicates a specific message as with multinational corporation GE and consumer goods company unilever
Wordmarks
probably the simplest form where the name of the company becomes the logo through the use of a unique typeface as with retailer saks fifth Avenue and Chemical Company DuPont
Badge marks
where the company's name is connected to a pictorial element such as tivos smiling television set and Innocence haloed face
Combination Mark
this type of logo design combines a word Mark and a symbol or icon to give the flexibility for the use of one or both of the elements across a variety of applications such logos as lacoste and Burger King
Emblems
the emblem logo consists of type incorporated within a symbol or an icon they are traditional in appearance and can make quite a striking impact they are often the choice of schools and government agencies auto Industries are also very fond of using emblem logos traditional emblem logos have been modernized in look over the years for instance starbucks iconic mermaid emblem and the Harley-Davidson crest have both been above been simplified over the years
Character and mascots
these types of logos feature an illustrated character that will represent the company they are often colourful and sometimes cartoonish heavily Incorporated with a fun factor feel mascot logos are a great way for a brand to have a spokesperson/character. Think of them as the brand ambassador. Some well-known logos include KFC's Colonel Sanders, Julio Pringles by Pringles, and Michelin Man by Michelin
Dynamic marks/Logo Systems
Also known as a logo systems. A dynamic logo is an adaptable logo a system of logos the logo has the ability to change depending on and to suit the context in which it's been shown
unlike a static logo dynamic logos are meant to be transformed, for instance specific aspect of the logo can change for instance the orientation of the symbol or the placement of colours it's extremely important to remember that some basic elements of the logo should always remain consistent regardless of the changes being made for the logo to be a correct representation of a dynamic style logo.
For example the City of Melbourne has a Dynamic Logo
Other examples of great dynamic logo systems are
The Philadelphia Museum of Art
OCAD University
To end of this article we have put together a list of areas that must be considered when designing a logo and areas that should be crossed during the logo design process
Having the correct logo design process will help make the logo appropriate and fit for purpose.
Areas to Consider During The Logo Design Process 
Know The Brand / Gather Information
Before you set out to design your logo, make sure that you have some insight into the brand. Get as much information from the client as possible to be able to form a goal orientated design brief you can get approved by the client.
Research 
Research is key understand the industry and target market, direct competitors
Think Adaptability
Adaptability – Does the logo require a dynamic logo system – How will it be used?
Sketching
Putting Pen to Paper. There is a lot to be said for the good old fashioned way of putting your ideas and design concepts down on paper at the end of the day it's about the concept and the idea behind it this must be achieved before the design.
Choose The Logo Style 
Make sure you choose the correct type of logo for the brand e.g. – a new start-up should not be using just a pictorial mark as it's a new business and people will not understand they will be better suited to a combination mark.
Focus on Form
When creating concepts focus on the form of the logo such as shape and structure don't think colour at this stage and good logo will be able to work well in black and white and not reliant on colour.
Think outside the box
While in the ideation and concept creation stage use the design brief and your research to make sure the concept is relevant and appropriate for the audience, by communicating a statement, its aligned with the brands goals and values, and reflects the nature of the business.
First Impression
Always remember that a visual first impression is crucial a few seconds is all it takes for an opinion to be made.
Keep It Simple
The logo must be simple – Keep it simple! – I strive for two things in logo design and they are: simplicity and clarity.
Think Scalability 
A logo must be scalable – Think Big and Think small, it must work at a large scale like on a billboard or the side of a building. It also has to work well on a business card or a tiny pin badge as logos need to be legible at all sizes you don't want to loose definition when scaled down.
Think Versatility 
Think versatility – "Beauty is the harmony of form and function"
Choose Fonts Wisley 
Fonts – Be careful when selecting fonts and typefaces, letter style give off emotion make sure its aligned with the design brief.
Choose Colours Wisley
Colour – same as fonts colour triggers feeling and emotion make sure to use colour in a planned way that is aligned with the design brief.
Unique & Memorable
The end goal is to be unique and memorable so always bear this in mind as your design.
We hope this has answered the question about What is a Logo Design? and we hope you have have enjoyed this article. below are some great resources we use and highly recommend for learning about logo design. They have been created by reputed designers in the industry who we have a good relationship with so you know your in good hands.